THE VISION PROJECT
What is your Life Vision?
06. 12 Principles To Life Masteries
Did you know that 95% of deep culture for most companies all around the world will the be same? Would you like to learn to think in a different why, in a way that will help you earn more money, work less hours, have less stress, and have greater life balance? You will love this natural law.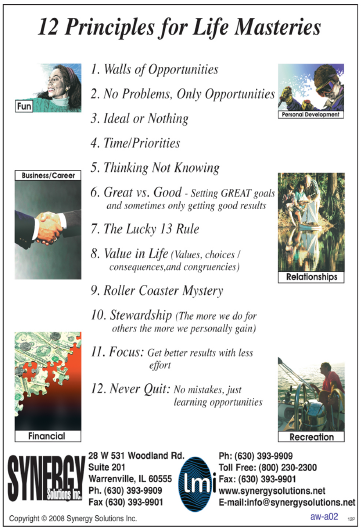 | 12 Principles to Life Masteries: Introduction (1.18 Minutes) | |
| --- | --- |
| #01: Walls of Opportunity (1.12 Min) | |
| #02: No Problems, Only Opportunities (2.30 Min) | |
| #03: Ideal or Nothing (2.18 Min) | |
| #04: Time vs. Priorities (3.53 Min) | Click Here |
| #05: Thinking, not Knowing (4.01 Min) | |
| #06: Good vs. Great (1.29 Min) | |
| #07: The Lucky 13 Rule (2.25 Min) | |
| #08: Value in Life (2.29 Min) | |
| #09: Roller Coaster Mystery | |
| #10: Stewardship (7.26 Min) | Click Here |
| | Click Here |
| #12: Never Quit (5.13 Min) | Click Here |
Back to Career Success