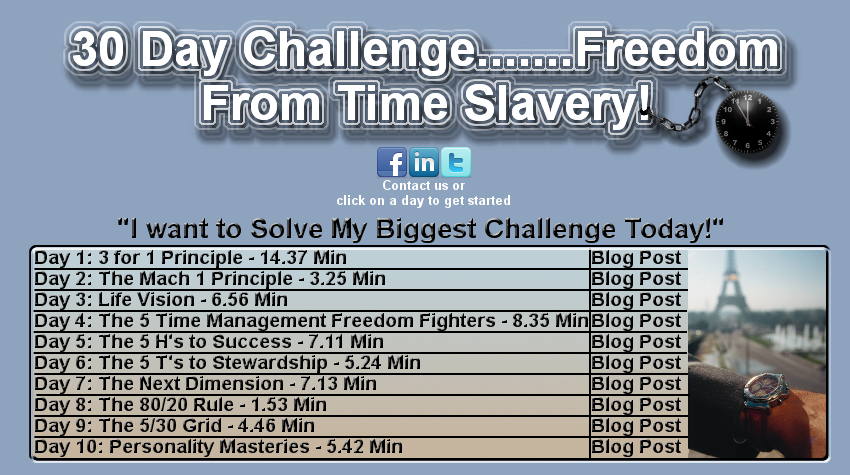 Click Here for 5 Time Management Lessons
Are you looking to gain more time in the day? - Secret About Time

Would you like to learn how to to apply natural laws to give you more freedom with your time?

Napoleon Hill says in "Think and Grow Rich" that "Whatever the mind can Conceive and Believe it can Achieve."

I starting applying this formula in November of 2011 and within three months I had an extra 20 hours of week of extra time that I do not know what to do with. It transformed my life and I love having all the extra time I do now. It's like I was enslaved before and now I have freedom.

I would recommend that you take 20 minutes a day for the next 30 days and really focus on watching, learning, and applying each one of the natural laws below. It changed my life and I believe will change yours as well.
- If you go through one video a day for 30 days, you will get through each of the videos three times.
- If you share this with three other people in your life and you hold each other accountable in going through and applying each of these daily for 30 days, you will be amazed what what this will do for you and others around you.
THE VISION PROJECT
What is your Life Vision?
THE VISION PROJECT
What is your Life Vision?
30 Day Challenge Freedom From Time Slavery!
I was challenged by my executive coach/friend to do a "30 Day Challenge . . . FREEDOM From Time Slavery" with three other people and you were one of the people I thought of. It will be fun, only take 20 minutes a day, it's a very short YouTube vidoe which is usually around 5 minutes on average.
There is no cost to do this, the only thing my coach/friend asks in return is that each person who takes this challenge is that they share it with three other people . . . kind of a "Pay It Forward" type of thing.